Tripawds is a user-supported community. Thank you for your support!
Yesterday (Sunday) was Day 2.
I moved his bed in next to ours that night. I woke up pretty regularly to check on him. He had been shifting around on his own without a peep but ultimately stayed in his bed the entire night. Yay drugs!
The morning of Day 2 was definitely interesting. Diggs is much more attentive today but still pretty zonked from the meds. He didn't want to get up so we dragged his bed (with him still on it) out into the living room. We finally got him up to go outside. He's moving a little better. Still no poop.
Amy and decided by mid-day that we needed to take Diggs out of our St Pete house with hardwood floors and into our apartment which is carpeted. The trip was… challenging. Getting him into the car was nothing short of a miracle. He got TO the car just fine, it was getting IN the car that proved to be more difficult. On the day I brought him home from the hospital, he let me pick him up to get him out of the car. Now, that was out of the question. Eventually we got the front paw on the seat and just shoved his butt in. There was some whining but we got him in. Now for getting out…
Luckily I had thought ahead and brought a few blankets for him. He was not a fan of the original process so he was very hesitant to even get up when it was time to get out. I laid a blanket down in front of him and was able to convince him that he should get on it. Then the two of us just picked up the blanket with him inside of it and pulled him out. This also served as the process to get him up the flight of stairs to the door of the apartment. The stairs were a big concern, but this move has proven to be the right choice. He is much more confident walking around on the carpet. Developing his confidence was the most important part so I will happily carry him up and down the stairs for a while. We placed him in front of the door and he got up and walked himself inside. I was stoked.
We left the kids with him while we went to the store to get groceries. He hardly moved. Once home, we unloaded the groceries and started making dinner. The 4 of us were talking, catching up on how everyone's day had gone, when suddenly someone shouted, "OH!", and we turned around to see Diggs standing behind us in the middle of the kitchen. I was elated. It took everything I had to not cry.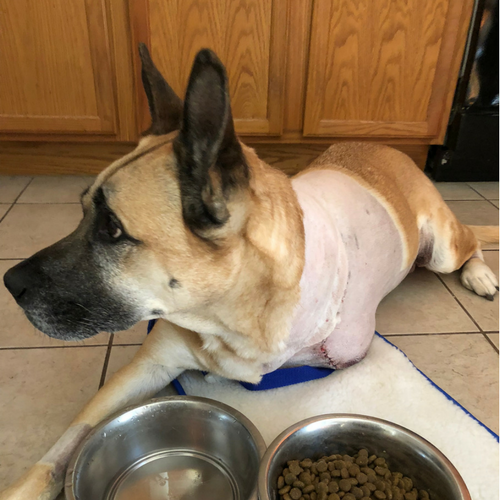 We took him out at night for a final bathroom break before bed and, to my relief, he finally pooped! Now I can stop writing awkward comments about his BM's. You're welcome.
He walked himself into our bedroom, around the bed, and on to his own bed all by himself. He seems a bit bummed right now but I think that will pass with time. Otherwise, he is kicking ass and taking names.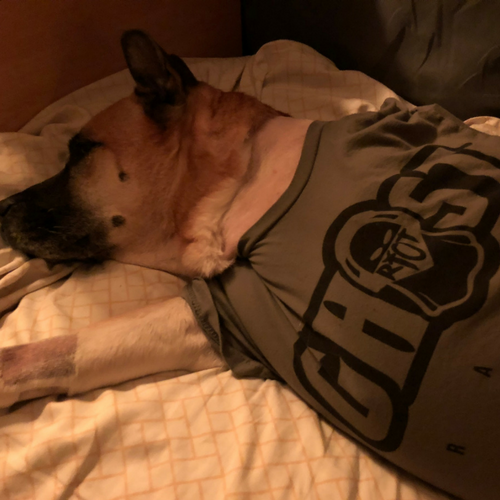 He's walking, he's eating, he poops. I can finally breathe.
Can't wait to see how we do on Day 3!
Diggs & Nick